ALVI Consult - education and investments in North Cyprus
ALVI Investment is focused on two areas of expertise: education and investments in North Cyprus. We guarantee the quality and comprehensive support to those who have chosen to follow these directions. Our cooperation is not limited to a short-term attention. Our company's specialists are your allies and support throughout the entire route of the client in his/her investment activities on the island or the entire term of his/her education in the specialization chosen.
Quality education abroad has been valuable at every nation and in every time, enhancing prestige of its holder, inspiring respect of other people, increasing up to the mark personal self-appraisal. Moreover, this is a call of the times for those who wish to broaden their mind about the world, get to know how people live in other countries, what hard it is to achieve within a short-term vacation or a tourist trip abroad.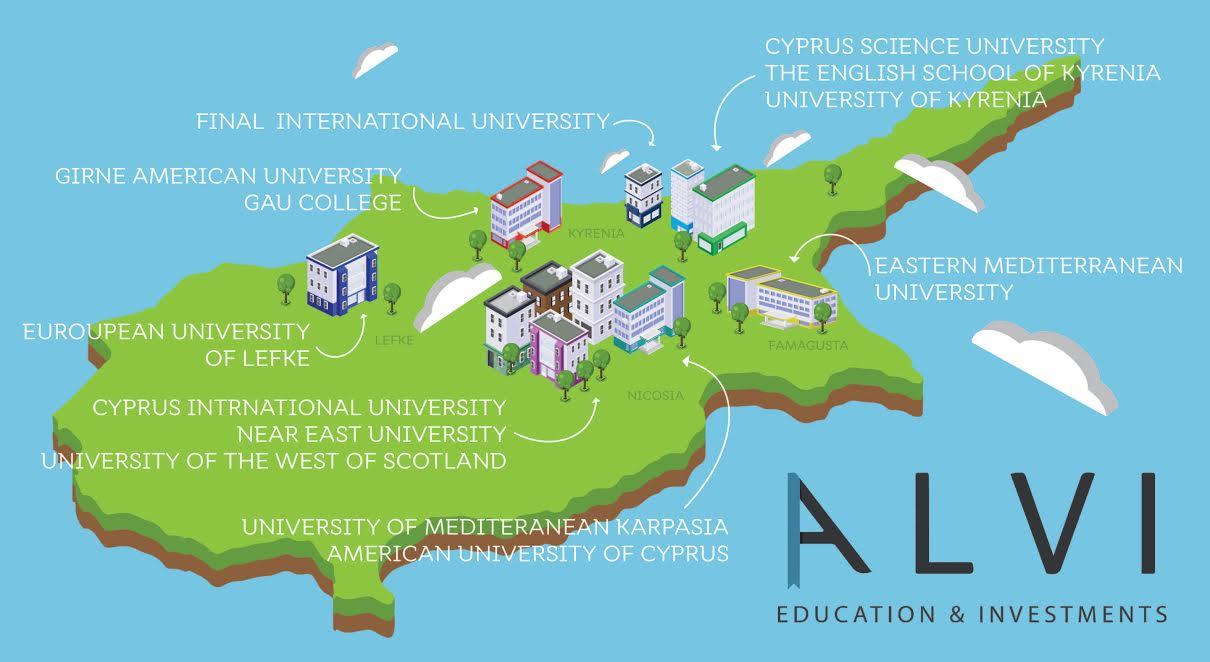 Having chosen the option of investment or education abroad and acting alone, many people face circumstances, which are hard to overcome without proper knowledge of customs of the country, mentality of the local people, domestic laws and specifics. These are just several issues which any university applicant or an investor-beginner may encounter.
How to solve a problem of language barrier and specifics of the local environment from the very beginning and without troubles? How is it better to apply to a university or another educational institution for the first time? What is the best cause of action without irreparable loss of TIME and MONEY? You need to have a reliable ally which is capable to bring your ideas into life, and what is of high importance, will be acting in transparent way and in your interests. ALVI CONSULT – is exactly this ally!
How to carry out an efficient search of investment opportunities in Northern Cyprus, which open now and prospective because of the construction boom on the island? What one needs to know, for instance, about infrastructure of the island, its business outlook, specifies of working with the governmental authorities and local companies, algorithm of a factory and industrial projects construction, prospects and needs of the island etc. Is the full participation in a particular sector of economy as an investor possible or are there local participation requirements? What are the specifics of the taxation system in Northern Cyprus? What preferences, reliefs and incentives can an investor enjoy? Is it possible to receive a support from the government and how to apply for it? Do local banks issue loans to foreign investors and what are the conditions? Is the duty-free import of machinery and other equipment real? What are the guarantees of investment preservation?
Contact ALVI CONSULT! The crucial aspect here is our INDIVIDUAL approach to everyone in EVERY SUBJECT!
Taking into account the workload of the universities, particularly in registration period with bulk of applications and various requests, we will definitely ENSURE:
Comprehensive advisory support to a prospective student on all the issues related to admission to the university/college and submission of all the documents and forms in full compliance with the entry requirements;
Best possible and timely solution of all organizational, admission, accommodation and other issues;
Visa support;
Flight bookings, airport transfers and accommodation search;
Scholarship for the whole period of education;
Significant saving of your time and finances;
We are with you! We know how to solve any problems without time, moral and financial loses;
We are confident and sure that our cooperation will be mutually pleasant and fruitful for you!